Nor Cal Fish Report
New Melones Reservoir Fish Report for 8-3-2019
Glory Hole Sports Fishing Report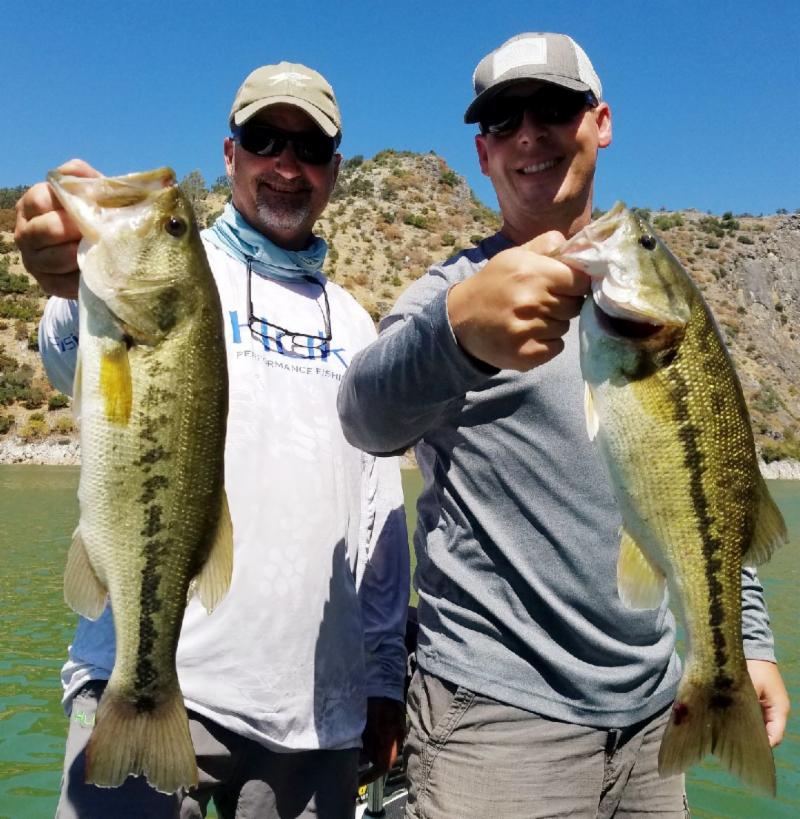 Glory Hole Sports Fishing Report
8-3-2019
Glory Hole Sports Staff
(209) 736-4333

New Melones Reservoir's current lake level is 1064.00 and 24 ft. from full. The lake topped off this year June 24th with a lake elevation of 1072.40. Water Temperature is 84d. Fish cleaning station is closed at Angels Cove with water line breaks interfering with operations.
Anglers FYI: For anyone with a potential lake record please call us at the store and hopefully we can send someone to weigh, photograph and measure the catch at the lake. GHS is the unofficial recorder of lake records for New Melones, and we understand there is sometimes conflicting interest in the welfare of the catch, whether or not to release the potential record, sacrificing your place as a record holder for the lake.
We do promote catch and release. For potential lake records, record the statistics of the fish... length, girth, weight and photographed at the lake before releasing her. If indeed we can verify the information that is provided, such as a witness, comparing the scale used with ours, a photograph with the fish hanging from the scale and can see the scale weight, etc...then we can accept this as proof. If your catch has expired than indeed bring it in to GHS so we can record it here, and you can have it mounted!
TROUT
The report on trout is that is a tough bite. Anglers best bet for rainbow trout will be in Angels Cove close to the stream inlet, where oxygen rich water flows into the lake, using night crawlers.
KOKANEE
Its not a understatement that New Melones has been a west coast premier destination for anglers in search of limits of quality Kokanee. With the recent Kok that was noted as the unofficial lake record of 3 lbs 8 oz. and several other koks in the 3 lb. range, we can foresee additional Kokanee over 3 lbs. that will continue to be landed this year. James & Toby Arnaiz along with their guide landed their limit trolling Bear Creek 45-55ft. deep using pink dodger & pink hoochie.
BASS
If your in the group of anglers that think things have tapered off on the bass bite, this father and daughter team Kevin and Lauren Frisk of Lodi were putting it to the bass landing a couple 4's and Lauren with the big haul, this 7 lb.8 oz. bucket mouth. Search shoreline coves, inlets, shady areas, and you will get results being persistent.
CATFISH
Mike McBride had a successful day angling catfish landing a 8.12oz, and 3. 15oz. using chicken livers.
CRAPPIE
Going deeper to avoid the warmer waters. 30-40 ft. depth. Use of a HydroGlow light will attract the native baitfish, and will in turn bring in the Crappie. We have 12" and 24" lights in stock.
NEW MELONES GUIDE REPORTS
John Leichty Xperience Fishing Guide Service
The bass fishing on New Melones has been fairly tough lately. With dropping water levels, warming water temperatures (up to 85-degrees), and the recent algae bloom, the fish are holding in fewer areas and feeding during short windows throughout the day. Regardless of the unfavorable conditions we are locating portions of the lake that are holding quality fish and have been able to make each guided trip a success. The key to getting bites is to slow down and work each cast and retrieve thoroughly. The bass will become lethargic due to the heat, which makes them hesitant to travel a great distance to capture a meal. If and when a good opportunity is presented to them properly, they will put forth the efforts to take. From north to the south and east to west ends of the lake there are always fish to be caught. Moving from one side to another fishing every structure and cover type at various depths is the best way to find groups fish that are willing to bite. Although we have found bites on moving presentations such as: A-rigs, underspins, crankbaits and spinnerbaits, the most consistent by far has been finesse rigging's and jigs. Dropshotting, NED rigs and Shakeyheads fished in a crawdad or shad pattern have been the main staple. Fishing football head jigs in dark and light shades partnered with a twin-tail grub is another fish catching technique that we have been implementing. When the bite is on fire or cold, I will continue to seek the giants that inhabit this gorgeous lake that I am fortunate to call my own. Conditions are always changing and the next great Xperience is just a cast away.
Head Hunter Sportsfishing
New Melones Kokanee fishing is on fire. Most fish are being caught down by Rose island and south of South Island. Fish are holding in 55' to 70' of water with fish weighing in over three pounds with the average fish just under two pounds. Pink and orange hoochies and apex's trolled from 1.4 to 1.8 has been the trick.
NorCalFishingNews.com © 2015. All Rights Reserved.
Website Hosting and Design provided by TECK.net